Remember me nagging about being afraid I wouldn't have any lovely people to spend time with this semester because most of my friends had left to go do all kinds of uber exciting things over in Italy? I totally already found new cool people to spend time with. I left class early today because it really sucked and because the professor has the WORST accent ever despite having studied over in America and England for about four years (and yes, the lesson is taught in English), and I went to have some awesome chai with my friend. We had a nice talk about love, life and how boys our age are basically impossible, and then we had a quick browse in my favorite vintage shop T2 that is having everything for 2 euro sales these days. She bought two gorgeous floral blouses (I totally would've snatched them if she hadn't found them first :() and a pretty silk scarf, and I bought a red cardigan and a fiercely oversized black and white striped sweater. I'm probably going back tomorrow. I love thrifting <3
I also remembered I still have to spend my gift card at River Island! When I dropped by the store I suddenly saw lots of things I wanted, including a VERY Peggy Olson appropriate shirtdress I will be getting first day tomorrow.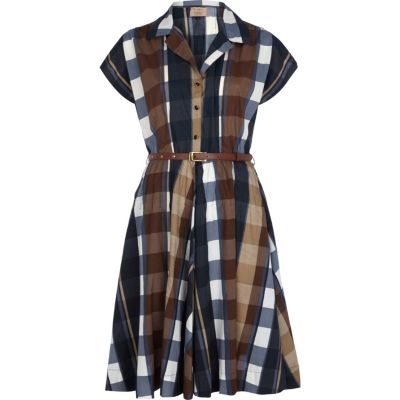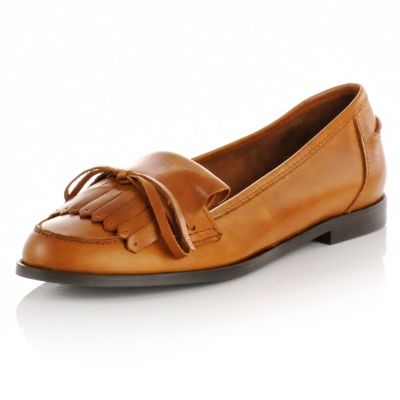 Want!
I also have my eye on some loafer style flats. I have quite a clear vision of what I want to look like this year, continuing on my vintage/retro kick inspired by Mad Men and sixties schoolgirls.
About today's outfit: wore this yesterday, I saw a picture of a girl wearing a midi skirt with a loose sweater and I loved it so I put this together. Easy, comfy, pretty.
dress, sweater, socks, ring: H&M
tights, boots: Pimkie
beret: old
PS I really want a beauty mark on my cheek or upper lip, like BETTY DRAPER <3
where can I get one of those?