Sooooo I ordered these babies for 7£ on the New Look website after ALMOST buying them in the store at full price (19.99£), so luck! I had been DYING for a chunky mary jane after missing out on those perfect Miu Miu knockoffs by F21.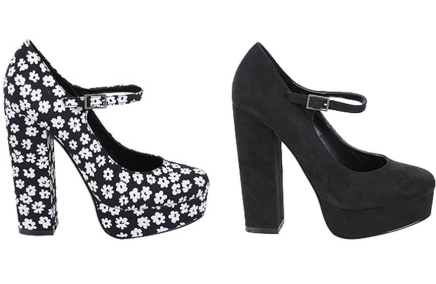 So yes, these were basically like a bday (tomorrow!) gift from GOD HIMSELF YO! I'm not religious, but one cannot deny the power of chunky mary janes. I mean, the Mary-part must have SOME religious connotation, right?! I find them deliciously 90's and totally something Cher Horowitz would wear. I can't seem to find them online anymore, but you can get them in nude or white patent
here
. I wore them with the bow sweater, a bow headband and my favorite pleated skirt for a modern take on fifties inspiration.
My exam went good I guess, I'm bad at assessing these kinds of things. We had just a little space to write which always makes me doubt whether I'm focusing on the right things. N.E.WAY I'm sure I did well. Now I'm going to enjoy a calm evening to repower my batteries for the next crammin' session! Thank y'all for your lovely comments, I have no idea how I earned such amazing followers :-) I hope I brighten your day a bit when you visit my blog!
sweater: H&M
headband: don't remember
skirt: T2 vintage
shoes: New Look
PS: Also bought
these
for 10£
PPS: Watching King Kong right now. I love that movie, perfect blend of genres. Adventure, romance, horror, drama. I always get so sad when they capture King Kong. I even cry a bit at the end.