Soooooo here's me in camel! I took my own advice and wore that shiz with a scarf between my face and the camel.
dress, coat: pimkie
faux fur: H&M
shoes: zara
Not that the faux fur brown flatters me that much but I thought it looked kinda nice, no? This is my first day of trying out the full on sixties make up look with eyeliner and a pale pink lip. I'm liking it, but it is a whole lot of look for me! I might try and find a slightly more natural nude lipstick. I liked how the entire look felt very luxe, expensive and chic. Faux fur and a trenchcoat do that for a girl. I'll never tire of these shoes, I love them so dearly. I wish they were more comfortable though since I can't really wear them anywhere. They are seriously the least comfortable pair of shoes I own BY
MILES
.
I've just visited Antwerp to go shopping! These were on my "to get" list:
-nude brogues
-black T strap flats
-the perfect oversized leopard blouse
-a mid calf length dress
-a black/nude/brown satchel
What I ended up buying:
I finally got the chance to visit the first ever River Island in Belgium and boy, was it worth it. You guys should seriously all visit River Island: not expensive at all and they probably have the COOLEST stuff among all the highstreet stores! It has instantly become my new fave shop. I ended up only buying some nude brogues there and I almost bought a lovely satchel bag but I decided to look around a bit more, keep my options open, play the field a bit. Buying a bag is a big commitment as I'd be wearing it every day for at least the next six months. I spotted a lovely bag at Zara but it only had a handle to wear it on your elbow or in your hand, not that practical right? But it was so lovely and had loads of compartments... I'll think about it some more.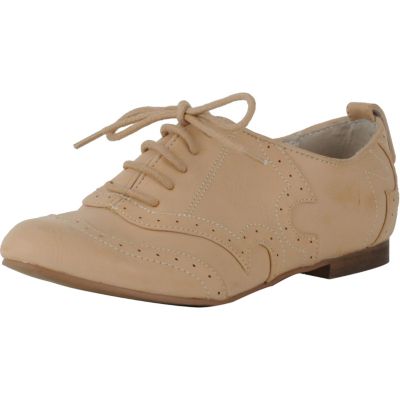 My River Island brogues! Almost pink-ish in real life. I also bought a new leopard coat at H&M. I know, not on the list, but I have been dreaming of a pretty leopard coat for the transitional seasons. My faux fur zara leopard is goooorgeous but way too hot to wear in spring or fall, so I knew I had to buy this H&M leopard when I saw how lovely it was! I also bought TWO long dresses! One is floor grazing but I might belt it up to ankle length, and the other is the EXACT Zara dress I posted, this one:
lovely, right? I tried on a long dress at Urban Outfitters too and I was wearing my black boots and suddenly it clicked in my head, I totally love ankle length dresses! I prefer them to the super long maxi dresses for summer and they're more interesting than knee length and mini dresses. I'm totally going to rock that look this F/W. You see, against all odds I'm starting to get excited for the new trends and the colder weather.
I sort of regret not buying these at Zara:
Absolutely lovely with longer dresses, no? I might go back for them.
And now, for the great finale of my post:
I JUST MET TAVI GEVINSON!!! I read on her blog that she was visiting Antwerp this week a while ago and I sort of thought to myself "hey, cool, I might run into her" not really thinking that possibility very likely and then totally forgot about it and just now I was talking to a friend I ran into and I saw TAVI FRIGGIN GEVINSON walk by me! I ran after her like an idiot professing my love and my friend came with me because she had a phone that takes pictures and I had forgotten my camera so thank god she got to take our picture, haha! I'll upload asap but she won't be home for a few days so I don't know when I'll get the chance. Anyway, this sure has been my lucky month! The busdriver even blew me a kiss this morning, seriously I feel like my life is a fairytale right now!
TAVI
FRIGGIN
GEVINSON
I love that girl, she's so funny and absolutely adorable and so pretty in real life!
Ok now I'm going to go and get some fries and a burger.
AWESOME right?
edit: here's the picture! I only look sort of dorky but that's juz how us bloggers roll: lookin dorky!