Today I'm showing you a make up look using some products I've rediscovered recently: the
shimmer cubes by The Body Shop
. Something that can take you from the office straight to a holiday party, using warm metallic shades that will suit every eye colour.

I got the TBS shimmer cubes as a gift from my parents in my teens, and turns out the cubes are still perfectly fine after scraping off the dried out top layer. Yeay! Also, wow, great quality! And you get SO much product for the price you pay (about 18-20€, I think). I used these quite often in my teens and I barely made a dent in the cubes.


I can absolutely recommend buying this quad of shimmer cubes- for yourself, or as a gift. It's been in The Body Shop's permanent collection for ages, and it's no secret why: this is a great product that is loved by many. Beautiful pigmentation, perfectly blendable, and a good mix of colours to create both daytime and nighttime looks. You can up the volume by applying the eyeshadows with a wet brush, but they work just as nicely dry. I should have made more of an effort to swatch honey comb, because that's actually the most pigmented of the four even though its swatch isn't as convincing. Take my word for it that it is uh-mazing (or google someone else's swatch!). My second favourite is the dark chocolate shade, because it's just as yummy as it sounds. The choco chips cube is my least favourite, as the colour doesn't always show up clearly on my eyelids. That's not the product's fault, though, because it is nicely pigmented - I think the colour is just too close to my natural skintone.

The look I'm showing you today has always been a favourite of mine, because it perfectly combines neutrals with just a small touch of colour. The honey comb shimmer cube is a real eye catcher that works beautifully with pretty much every imaginable eye colour: grey, blue, green, hazel or brown, it all pops against this warm, shimmery hue. Add a highlight to open up your eyes and a darker shade to intensify your gaze, and you've got everything you need.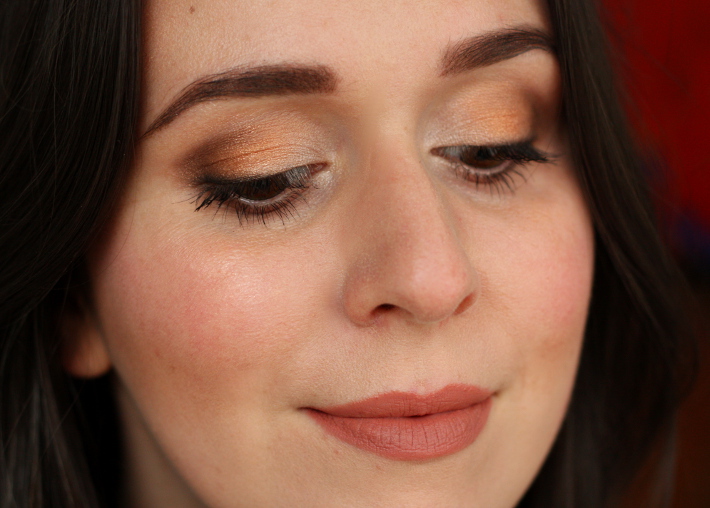 Let's get down to the nitty gritty, here is a list of the products I used.

Face:
- Chanel Vitalumière Aqua BR12
- Sleek Face Form in Fair
Brows:
- & Other Stories eyebrow powder in 4
Lips:
- MAC Velvet Teddy lipstick
Eyes:
- Catrice Prime and Fine eyeshadow base
- Sleek Face Form fair highlighter
- The Body Shop Shimmer Cubes in Warm
- Maybelline Volum' Express mascara
- Catrice Longlasting Eye Pencil Waterproof in 010

And here's a step by step tutorial.
1// After you've applied eyeshadow base, brush on the highlighter all over the moving eyelid and just under the eyebrow.
2// Dab on the copper eyeshadow in the middle of the eyelid up to the crease - don't be afraid to load on the colour.
3// Apply the darkest eyeshadow to the outer corners of the eyes, blending inward towards the copper and along the crease.
4// Draw your smudgeable eye pencil from the outer corner up to the middle of the lashline, and use a brush to smudge and blend inward, swiping what pigment remains on the brush along the outer corners of the lower lashline.
5// Add mascara.
And done! If you notice at the end that the lightest shades aren't as bright as you'd like, you can always go back and blend in some more colour. Keep tweaking until it's just right. Hope you like my look!