Hey guys, checking in to tell you guys what's happening. I have hardly been at my computer the last two days so I haven't really had the opportunity or the energy to do a blogpost.
Yesterday in the afternoon I got a call at work from my sister in law telling me my dad was basically dying.
I called my boyfriend crying and we hurried over. My dad wasn't responsive, he had been throwing up and his bloodpressure was off the charts. We called our brother in America telling him he should hurry over to experience some last moments with our dad and waited for the ambulance to transfer him to a bigger, better equipped hospital.
After hours of worrying, my dad's situation seemed to stabilize. We went home after seeing him settled down on intensive care.
This morning we got a call telling us my dad was doing better, his bloodpressure had dropped significantly and he was even trying to speak. Right now, our hopes are up again.
I'm incredibly thankful I have been able to share this ordeal with my family and our other halves. My boyfriend has been amazing, driving me everywhere and putting up with my frustrations. It's moments like these that make us realize how important it is to share feelingns and worries with others.
We've all been experiencing an emotional rollercoaster the past few days. Where do we stand without our parents? Should we have done things differently? Does my dad know how much we love him? Shouldn't we have told him more, asked him more, shared more?
After all, our parents are people with their own life, past, feelings, dreams and fears. Somehow, even if you grow up you keep seeing your parents as just that: your parents. Is it ever possible to have an honest human-to-human relationship with our parents, to appreciate them for who they are instead of for who they are to us?
As a kid I was always incredibly scared of losing my parents. I remember asking my dad over and over again if he was going to die, and he always assured me he would live up to the ripe old age of 120, at least. It never really stopped me from worrying though.
One thing's for sure: if and when my dad gets out of the hospital, I'm taking him with me to our favorite pizza place in Lokeren to introduce him to the best pizza in Belgium.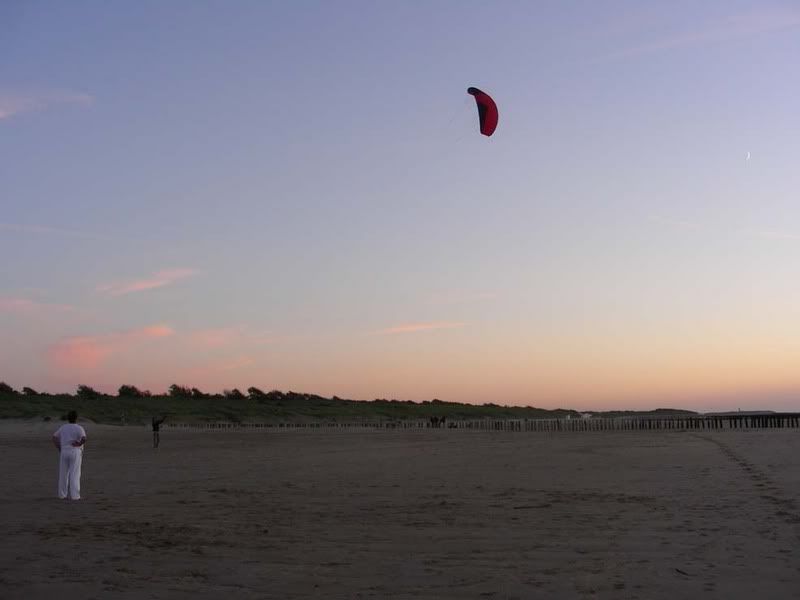 My dad at the beach appreciating someone flying a kite, one of the family outings I remember best.
I haven't taken any pictures of myself the past few days but I assure you I still look the same and I am wearing clothes. My priorities just lie elsewhere right now :)
************
Reading blogs can be a great way to clear your mind from worrying. My pincurl tutorial was featured in IFB's Links à la Mode roundup, an amazing instrument to spread love and promote quality in blogs, so spread the love and check out these posts! :-)

Season of Change
Edited by: Meghan of WIT & Whimsy
One of my favorite parts about fashion is how the seasons influence our style. As summer winds down, and as this week's Links a la Mode showcase, it appears we fashion bloggers are ready to usher in fall and embrace layering, new trends and an entirely new season full of ways to rework our wardrobes.
The IFB Weekly Roundup: LINKS À LA MODE: September 1st
SPONSOR:
Fashions Night Out
at
Shopbop
:
Chaser Tees
,
Vince
,
Tbags LA

,
Freecity
,
Obakki
,
Maison Scotch
,
Aiko
,
So Low
,
Joie
,
Siwy
,
Wilt tees
,
Cut 25
,
&

UGGs
.
PLEASE READ IF YOU WOULD LIKE TO PARTICIPATE
If you would like to submit your link for next week's Links à la Mode, please
register first
, then post your links
HERE
. The HTML code for this week will be found in the
Links a la Mode
group will be published later today. ~Jennine