A few weeks ago, my darling
Harriet
surprised me by sending over a dress she never wore but reminded her of me, along with the skirt I am wearing today. The dress is adorable and I'll show it to you soon, but it's the skirt that posed a challenge: I absolutely ADORE the shape, print, fabric and pleats, but the grey-greenish color really screams granny. Now, a lesser person might walk past this piece and discard it based on the granny vibe, but I shall not do so! I knew I had it in me to style this skirt in all the right ways.
However, how should I go about doing so? Toughen it up? Nah, would look as if I'm trying too hard. Simply retro with my usual style? Probably too granny/boring. But what if I'd throw some humor in the mix? When life gives me lemons, I shall put on a tribute to those lemons because lemons are pretty awesome. Lost you there, didn't I? What I'm trying to say is: if a piece is challenging, just take it all the way there: don't "tone it down" because that will look as if you don't know what you're doing. My advice is to go big or go home. So if your skirt is a little too literally retro, go with it!
And that's what I did. Ladylike all the way with the spectator pumps and small purse, but done my way with a bit of humorous quirk by going for lilac nails and a double floral that brings out the pink in the skirt rather than the greyish green tone, topped off with this seriously silly scarf tied around my neck. I felt like a proper flight attendant (hence the title), but I feel this outfit totally works. The black and white of the pumps and purse don't go with the skirt, but the top ties it all together by combining pink-white-black. RIGHT?
I'm totally smug about this success. In fact, I will take this opportunity to do a little Peggy Olson twist. And no Pete Campbell will bring me down.
blouse, purse, scarf: T2 vintage
skirt: Gift from Harriet
shoes: Zara
ring: Alex Monroe
nails: Hema
UHU GURLFRIEND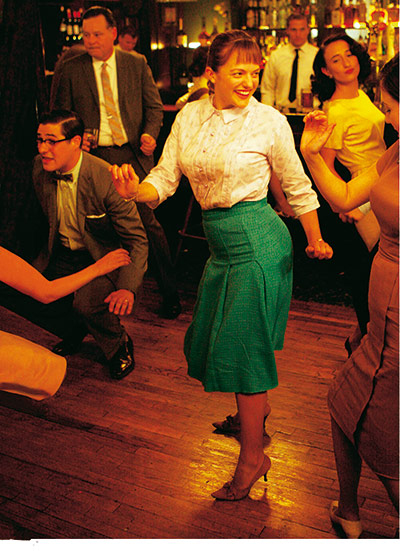 Even Pete approves!