Guys, I just found my new favorite hairstyle: faux bangs!! I had been experimenting with ponytails since my hair has been getting longer and since I'm a huge fan of everything Peggy Olson does/wears. I love the retro fifties cheerleading wholesome girl vibe a short ponytail gives off, but I didn't like it with all my hair pulled back so I suddenly had this flash of inspiration where I thought HEY I could do this and this and it would look like I have bangs! So I put that shiz together and BAM there you have it, my new hairstyle! I am in love, it makes me look so retro. Also, like Katy Perry. Bitch totally stole my look though, I had that hairstyle back when I was 17. Now I really want a big barreled curling iron to make my ponytail do that flippy thingy.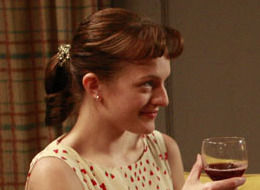 CUTE RIGHT?
Back to school tomorrow, I actually kinda look forward to seeing my classmates again! Hope the weather stays nice, hanging out is just that much more fun when the sun is a-shining.
I wore this outfit to go to the easter fair just across our street. I hate the stupid rides because I even get hurt in the autoscooters, but I love the junkfood they sell there. Hamburgers with onions and ketchup, hotdogs and these:
Anyone have any idea what these are called in English? We dutchies always eat them on New Year's Eve or at fairs. I loooove em. Fatty, fried doughballs with sugar, OMnomnom.
dress: H&M
glasses: Claire's
clogs: New Look
ribbon as belt: came with a Mango dress
orange nailpolish: Catrice
blue nailpolish: Model's Own @ River Island